Hey guys! I had so much fun doing the Spark linky! I enjoyed looking at all of your creative ideas. Everyone's ideas were very cute and clever but here are some that really stood out to me...
Please click on the pictures for their source :)
If you've been featured, be sure to grab your button!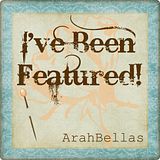 Join us again for the Spark linky party in October! The theme is "Harvest Festival". I can't wait to see what you guys come up with this time!